Grace to you, and peace from God our Creator and the Lord Jesus Christ.
The books of Ezra and Nehemiah are found in our Old Testament. Originally one book, they capture the story of a priest and scribe, Ezra, who is charged with leading God's people back to Jerusalem after the fall of Babylon. The climax of this story is found in the eighth chapter of Nehemiah. The temple has been destroyed, God's people no longer remember the promises and commandments made with God; all hope seems lost.
So, Ezra gathers all the people together at the Water Gate of the city and reads from the Torah of Moses. We hear, "[the Levites] read aloud from the scroll, the Instruction from God, explaining and interpreting it so the people could understand what they heard" (Nehemiah 8:7-8 CEB). This time was then celebrated with a feast of rich foods and sweet drinks, as the people worshipped God, shouting "Amen! Amen!"
This narrative sounds like just another bible story of old. Of course, God never forgets her promises, and of course, God's people eventually remember that the Torah was a precious gift. But when we dig a little deeper, we see that this story is anything but ordinary.
God's people had lost hope because their temple was desecrated, and they were led off to live in a faraway land. This trip back home would be wrought with emotions: not only was their exile a result of their own actions but returning home they find everything they once loved to be gone. The buildings are falling apart, the farmlands have been razed; all they had left was what they could carry to and from Babylon.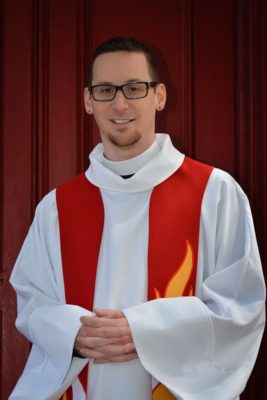 And how does Ezra respond? He gathers all the people at the Water Gate, the part of the old city walls where all people would come and go – men and women, young and old, rich and poor, everyone. He doesn't just order the scroll to be read, but he orders the religious leaders to give interpretation, so that all people could understand – not just the educated, not just the religious, but everyone. And then he declares a day of feasting and worship where all people celebrate and give thanks to God for, once again, delivering them out of bondage and into the promised land. With God's people, we shout "Amen! Amen!"
This past November, I began my third year serving as your vicar. It has been a wonderful journey thus far, and I am excited to see where God will lead us next. It is a privilege to serve such a welcoming and dedicated community of prayer, compassion, and justice. And in so many ways, this story of Ezra reminds me of St Michael's. We are the Water Gate of Trenton – a place where all people are welcome to come and go; where all people can hear the promise of God's unconditional love (with interpretation!); where all people can be fed and nourished with faith, food, and friendship.  Join me in shouting, "Amen! Amen!"
We witnessed numerous signs of growth at St Michael's in 2017. There are far too many to list, but here are a few highlights:
We have continued to cherish our various ecumenical relationships. We joined a midweek dinner-and-worship rotation in Lent with Covenant Presbyterian, Pearson Memorial United Methodist, and St Bartholomew Lutheran. We celebrated Maundy Thursday, Good Friday, and the Great Vigil of Easter with St Mark Lutheran and St Bartholomew Lutheran. We celebrated Advent Vespers with St Mark Lutheran. We also took part in an ecumenical online Spiritual Practices class led by Pastor Ian Hill and myself.
Along with the Princeton/Trenton chapter of the Campaign to End the New Jim Crow, we participated in a few events around criminal justice and Reentry Awareness. We hosted a film viewing and discussion on "Broken on All Sides," provided refreshments for a public forum at Mercer County Community College, and we were present at a criminal justice rally at the Trenton Battle Monument.
Over the summer, we welcomed Carolyn Beard as our intern. The summit of her time with us was the creation of a memorial to the victims of gun violence in Trenton in our north yard; this is a visible statement to the community of our commitment to ending community violence in Trenton.
A few members of St Michael's attended the first annual Justice Gathering of the Lutheran Episcopal Advocacy Ministry of NJ, and we began talking about how even small communities of faith like St Michael's can make a significant impact in shaping public policy and opinion.
We executed a matching grant with the NJ Historic Trust, in the amount of $45,000, toward historic preservation work on our building's exterior. The vestry also recently approved a bid for this construction; we expect to break ground in the Spring.
For the second year in a row, we hosted an interfaith Chanukah/Advent choral concert with Sharim v'Sharot. These events have been very well received, and Sharim v'Sharot has asked about our hosting the concert again next year!
We were not without a few challenges this year:
The overall condition of our historic building continues to degrade. We need to continually be aware of our building's condition and plan for future maintenance work. We also must continue to monitor the use of our facilities to maintain the property's integrity and safety.
Due to new laws regarding trust funds, one of our significant sources of investment income will soon be turned over to our own control (and likely liquidated for the exterior restoration project). This means that our operating income will decrease about $4,000 annually.
At a meeting in November, the congregation was made aware that 49% of our regular income is given by three giving units. As a result, we all must make every attempt to increase regular contributions. I also hope to bring in a specialist to talk with the congregation about estate planning (to increase the value of and dividends from our endowment funds).
In light of these exciting and challenging realities, I also would like to share a few exciting opportunities coming in 2018:
Leadership from St Michael's and Trinity Princeton have begun visioning about shared ministry. There are a few events scheduled in February, and more to come.
As noted above, we will soon begin exterior historic preservation work on our Sanctuary building. This should have minimal impact on any events held at St Michael's, but will ensure the integrity and safety of our physical plant.
We are continuing to make small changes throughout the building to increase efficiency and decrease costs: we are working with Verizon to install FiOS (a higher-quality and lower-cost choice for internet and phone service), we are beginning to replace old lighting fixtures with energy-efficient LED bulbs, and we have installed some motion-sensor switches to make sure lights are turned off.
In 2018, St Michael's Episcopal Church celebrates its 315th year. As we look back, we also look forward. Your vestry and I continue to discern where God is calling us. And you, the body of Christ at St Michael's, are part of that discernment. I invite you to always be asking: where is God leading us? What new thing would God have us do in Trenton? And, perhaps most importantly, what must we let go of in order to do this new thing?
In closing, I want to thank each and every one of you. All we have done together, and all we are yet to do, would not be possible without the prayer and support of this entire faith community. We are small in number but mighty in spirit; I am confident that with your continued support, St Michael's will thrive as a community of prayer, compassion, and justice for many years to come. "Amen! Amen!"
The grace of our Lord Jesus Christ, the love of God,
and the communion of the Holy Spirit be with you always,



the Rev'd Mark David Johnson
Vicar